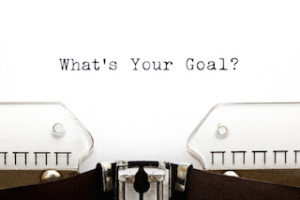 The first step to achieving any goal is to get clear on your outcome in advance. This may seem obvious but I would suggest that this not be treated casually if you really want to hit your target. It seems pretty straight forward, right? Know what you want and then go after it. Sure, but you want to give yourself the best chance of making it happen, right? This article will give you easy to follow, actionable steps to take when designing and achieving your big life altering goals. Set some time aside for this process, you are designing your life the way you want it to be. And that is pretty important.
Get Clear on your Outcome and your Why
Clarity is power. If you start in a direction and have a general idea of where you are going you will probably get somewhere. But if you have a clearly defined destination in advance you can take the most direct route. Take the time to find out what you really want and why you want it. This will give you the juice you need to take the necessary actions, even when you don't feel like putting in the work at times. If you know where you are going and you have a purpose, life tends to align itself for you. Get clear on what you want and why and watch how the universe will conspire on your behalf to make it happen.
Write Down the goal in very specific terms
Take pen to paper and write down exactly what you want to achieve in very specific, vivid terms. If it is a financial goal, what is the exact amount? If you want to get fit and lose some weight, what is your ideal weight? And when? Write down when you plan on achieving this goal. The more specific you can be here the more likely you are to achieve your goal. You are designing this, create what you want. This is the time to dream, and dream big. Remember the wisdom of Napolian Hill, "Whatever the mind can conceive and believe it can achieve." We have within us the ability to accomplish far more than we give ourselves credit for. Know that you have the capacity if you have the will. You CAN create your wildest dreams in this lifetime. If it has been done you can do it too, and if it hasn't that just means you will be the first. Never let your mind trick you in to believing that you are anything less than 100% creative and that anything you think can happen, you can create.
This is a time to have fun. Play, explore, what do you really want? You are designing your future here. What exactly does it look like? What does it smell like? Really, how will you feel when you accomplish this goal? The more vivid a picture you paint here the better.
Visualize Yourself Attaining that Goal
Create mental image of you accomplishing the goal. Start seeing your goal as complete, as if it has already happened. Again, be vivid. How do you feel, what is your life like now that you have accomplished this goal? Feel what it feels like to have this new business, reach the financial goal, or fitness goal. Send the images to your subconscious mind of what you want and it will find a way to get it for you. When visualizing be grateful for this goal that you have now accomplished. Remember, it is important to do this in the present tense, as if it has already happened. Use as many of your senses as you can when visualizing your goal. If you think visualization is weird, keep in mind that most professional athletes spend time visualizing before any competition. Why? Because it works! Remember, everything that has been created started in someone's mind, as a visualization.
Incantations/Affirmations
Once you have a clear picture of your goal, you are visualizing it as you want it, start with some incantations or affirmations. Write down a statement of what you want as if it has happened and read it out loud. Not in a monotone boring way. Get excited! This is your goal. This is your life your planning here! Make a declaration. It may look like this. I am so thankful to have grown my business to X dollars in revenue in the last 6 months! I am in the best shape of my life! Or, my relationship with my family is better than ever before. Whatever, it may sound corny but if this is what you really want then who cares. You'll be happy you did when you hit your goal. Say it with congruency throughout your entire being. This stuff works, again you are communicating with your subconscious mind. Telling it, this is what I deserve and it will find a way to get you there.
Create your Plan – Begin with the end in mind
Now that you clear vision of what you want, start planning with the end in mind. Start with a brain dump of everything that you think can help you achieve this goal. Write it all down. Don't analyze too much here, you can distill this later. Once you have a solid list you can start prioritizing and chunking down these ideas in to actionable tasks with priorities. This will be your map to achieving your goals. Focus on the tasks that are going to give you the biggest results. It is easy to get caught up on the little mundane, easy to accomplish tasks because they are easy. But I challenge you to go after the big stuff first. Focus on what is going to give you the best results. You know what these are, take big steps towards your goals. One note on your map, stay flexible. This is an outline of the steps to take towards your goal, but if something better comes up or if what your doing doesn't work try another approach.
Take Action! 
There is no better time than the present. The sooner you take action the more momentum you will build. Momentum is key, and the more you take action the more confident you will become. Who cares if something doesn't work, try something else. Take inventory of what is working and do more of that. Track your progress, remain flexible, and change your course when needed. Of course you will need to make adjustments along the way. Most planes don't take a direct route to their destination, they are constantly changing course based on the orientation to their goal, the destination.
So, this can be the beginning of something great for you or just another interesting article. I believe there is greatness in each and every one of us. Don't settle for less than you are capable of. This is your life, make it amazing!
If you are inspired to take action on something major in your life announce it to the world in the comments below.