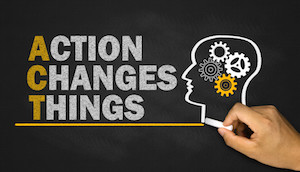 Ever notice yourself wanting to control how life events will unfold? The weather on your wedding day. A test result. Your in-laws (not mine of course) 😉 Your friends. Your spouse. Your children. You get the idea. There are a lot of things in our life that we would love to have control over. The reality of it is we can't control it all. We sometimes trick ourselves into thinking we do, which just makes it harder when things don't happen the way we want. So, instead of spending our energy trying to control events and people, let's focus on what we do control. We have absolute 100% control over 2 things in our life, our attitude and our actions.
Now I am not saying you can't influence some of the things you would like to control. But your influence will be primarily determined by the attitude you show up with and the actions you take.
Energy + Attitude = Effective Actions
The energy you show up with, along with your attitude, will determine the quality of your actions. If you have the attitude that says, "I know it won't work". I am willing to bet your results are in line with your attitude. It can feel like, why should I even try? And subconsciously you may end up taking actions that cause you to miss the opportunity. Or just not take any action.
Alternatively, our attitude can be empowering. It can set us up for success and influence the quality of our actions. What if you decided to choose the attitude that said, "I know it's going to work, we'll find a way"? Subconsciously you would be open to finding a solution or solving the problem. You would also be empowered to take the actions to move you toward your goal. You also wouldn't be so easily derailed when things don't work out on the first try.
We attract what we consistently think about. 
So, turns out we have more control then the bleak picture I painted in the first paragraph. The question is, what are you trying to control? We rarely take time out in our day to reflect. Take notice of your attitude before you react or start a project. You CAN control this! Take an empowering stance. Be inspired by others that have done what you want to do. Take a mental picture of the possibilities. This will get you in an empowered state and prepare you to see the opportunities when they show up. If you are open to them they WILL show up. With this new state you will be able to see them when they do.
Ever notice how when you are shopping for a new car you see that car everywhere, when you barely noticed it before? It's kind of like that. A ton of the cars that you have been thinking about buying didn't just show up. They have always been there. So are the opportunities. They are always there, the optimistic view is always available to you. When you look through the lens of optimism and take an empowered stance, this stuff just shows up, I am telling you. Don't take my word for it. Try it. What do you have to lose? What have you been doing with the expectation that it won't work? What if you changed your belief and attitude to one that said, "I will find a way to make it work". What do you think that would do to the quality of the actions you take or the perspective you would have? I am here to tell you it makes all the difference.
What are you expecting?
Show up with an expectant attitude and you are more likely to attract what you want. You will be more willing to take the extra steps to make it happen. Now I am not saying this is a guarantee, but what is the alternative? What do you have to lose other than an attitude that does not serve you? Not only that, you will feel a whole lot better along the way. If after all that, it still doesn't go your way you can keep you optimistic attitude for free. 🙂 And then…change your approach. The fact is, you are more likely to find another way to make it work if you take an empowering stance.
So, think about how this applies to your life. What is the attitude you are showing up with today? I am not saying you have to be someone you're not, or put on a smile when dealing with a major challenge. You are entitled to feel however you want. But what is the perspective or lens you are looking through? Take note of how this attitude affects the people you love in your life. Think about how it affects you. What have you been looking at in a bleak way that can be reframed into a positive light? How would this affect your life, your family, your friends, your finances, and your outcomes?
My brother always says, "this is not a dress rehearsal". Referring to life, we are only here for a short period, let's take full advantage of the opportunity we have been given. Let's control what we can and let go of the rest. What attitudes and actions are you going to choose today? Make this a conscious choice, this is not a dress rehearsal.